2017
»
Your Guide to Choosing a Kitchen Island
2017
Sponsored links
Oh, a kitchen island. So many of us dream of this oasis in the middle of a busy room, but making it happen can sometimes seem daunting. There are so many details to consider, so many options, so many design dreams. Knowing where to start can feel a bit like deciding which tropical island to vacation on — they're all good, but which one is best? Here, we break it down by category. Kitchen islands are a combination of form and function, but chances are function comes first in your kitchen.
Function
The kitchen is first and foremost a functional space for preparing meals. A kitchen island can aid this task in several ways. Then, of course, there are many details to attend to that will keep your island working for you instead of against you.
Purpose
Defining the purpose of your kitchen island will make the rest of the decisions easier. Is your goal to have a separate prep area? An area for friends to congregate while you cook? A spot for your kids to do homework while you prep meals? A place to store less-used kitchenware like canning supplies and ice cream makers? And is your primary goal to gain space for seating, cooking, or storage? While a combination is possible, choosing one primary function is best.
Features
Depending on whether or not your space is for seating, cooking or storage, features will vary. Do you require a sink for prep or bar work? Would you like to incorporate a separate small fridge for beverages? Are open shelves or drawers more useful for your storage needs? Would you like it to hide the unsightly trash and recycling? Do you want to be able to seat four for a quick, cozy meal? Make a list of your needs. Since we're talking function at this point, keep the list to functional items, like towel bars, drawers and counter materials.
Height
Height is one of the most important decisions that will make or break the usefulness of a kitchen island. If you're creating a custom island, you can measure your height and hips to choose a comfortable prep height for chopping and cooking. Otherwise, the standard height for food prep is 36 inches. The standard height of most kitchen islands is 36 inches. The standard length ranges from 2 – 3 feet in width and 7 feet long. Unfortunately, this is a bit in-between for seating heights, which are generally at 42 inches for bar stools. Never fear! You can create a tiered island to solve this problem, or search for stools that are an appropriate height.
Seating
You'll need to decide if you want to keep your stools under the island at all times, or stow them away somewhere else for quick access. Seating is an area for creative expression — choose options like industrial drafting chairs or modern, sleek swivel chairs.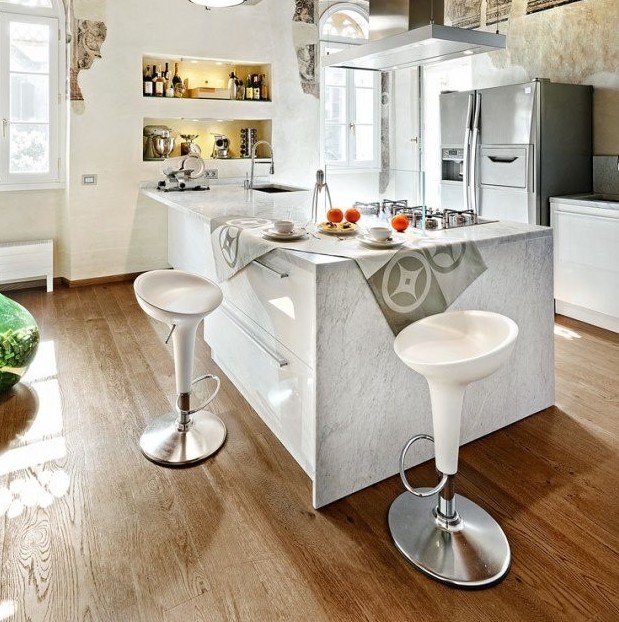 Shape
While most kitchen islands are rectangles, approximately 2-3 feet wide and up to 7 feet long there's no need to be constrained to this shape. You might find a cutout at a sink makes for a convenient and comfortable prep space. You might like an oval fan-out to maximize seating options. No one says a circular island is a no-go, either, though it is most useful as a grab-and-go station or for seating. Square is also an option, or a narrower rectangle that sits up against a wall and can be brought out as necessary. You can also create L- or T-shaped islands to fit into the workflow of your kitchen.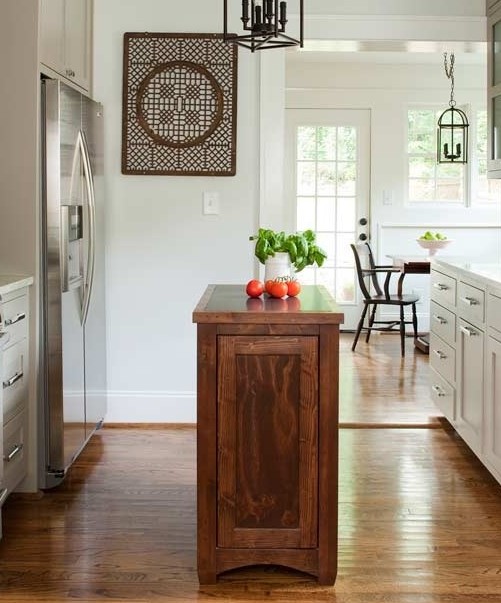 Space
You'll want to recognize the flow of your kitchen space before you go putting a large piece of extra counter in there. Be aware of the design principle of the kitchen triangle connecting the sink, refrigerator and stove. Try not to disrupt this workflow. You'll also want at least a few feet of space on all sides of the island to account for passers-by. You'll need even more room if you're pulling out stools. Don't forget to leave room for feet under the counter if you're using stools, or your diners will be too far away from their food.
Materials
For a baker, a dream kitchen island probably incorporates butcher block and marble. Stainless steel might appeal to the prep chef, and a mix of butcher block and granite might be ideal if the purpose of your island is mainly bar-oriented. But that's only the top. The bottom can be any style, from Shaker-simple legs to sturdy traditional molded legs and cabinets. Or go sleek with flat-front cabinets and contemporary pulls. This is a place to add the same design elements as the kitchen or go for a different vibe.
Add-Ons: While these things may not have been on your needs list above, don't be afraid to dream a little. Create the kitchen island of your dreams. Would an extra oven make your holiday entertaining dreams come true? Does a built-in knife block make you giddy? Shelving galore for your cookbook collection? This is your chance to make it happen without entirely re-doing your kitchen, so add it in now.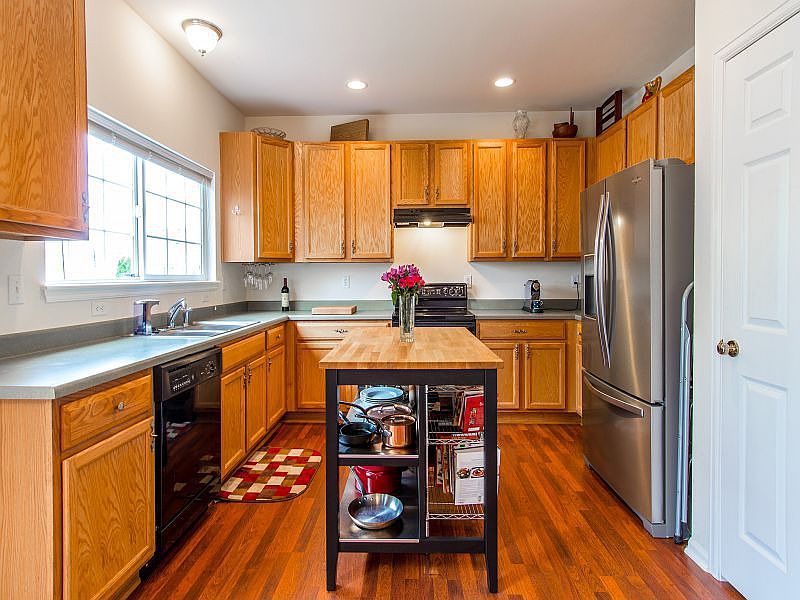 Storage
A kitchen island primarily designed for storage can have a mix of open shelves and cabinets to create a more spacious look. Built-in wine racks, towel racks, and more are options here, too. Of course, if you're storing pots and pans, you'll want deep and wide cabinets. Pull-out cabinets and drawers are particularly useful for storing larger pots and appliances. Pull-out drawers are also useful for concealing recycling bins. Built-in baskets for vegetables can take your island up a notch. Consider a mix of doors, drawers and shelves to create a useful and aesthetically pleasing design. Remember that these lower shelves, baskets and drawers will most likely be accessible by children and pets.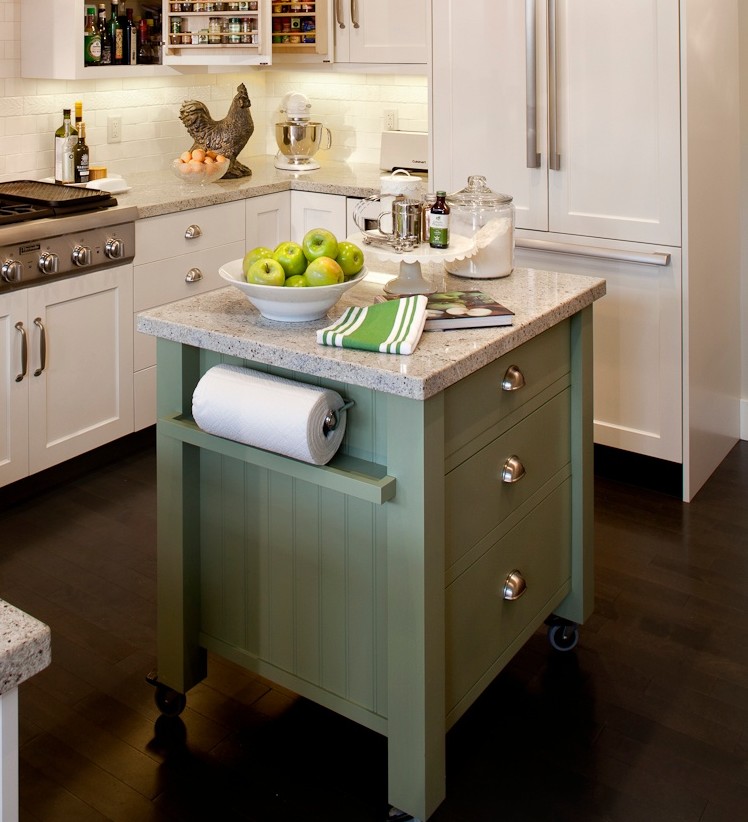 There's a kitchen island for every interior design style. A country-cozy kitchen is easy to accomplish with a butcher block or marble island on casters. Industrial modern? Pipe legs and a reclaimed wood top are here for you. Traditional? An ornate, heavy wood island will anchor the kitchen.
Sponsored links
Your Guide to Choosing a Kitchen Island Pictures
Related Images for Your Guide to Choosing a Kitchen Island
Sponsored links